The next iteration of Stable Diffusion is nine tenths of the way here. By the time you read this, we might have the full 1.0 release! But for now, let's have some fun!
What is SDXL?
Marking the progression from the v1.5 model, the SDXL model is the next leap forward in quality and enhance-ability through higher base image resolution (1024x1024), better prompt recognition, more advanced LoRA training and full fine tuning support.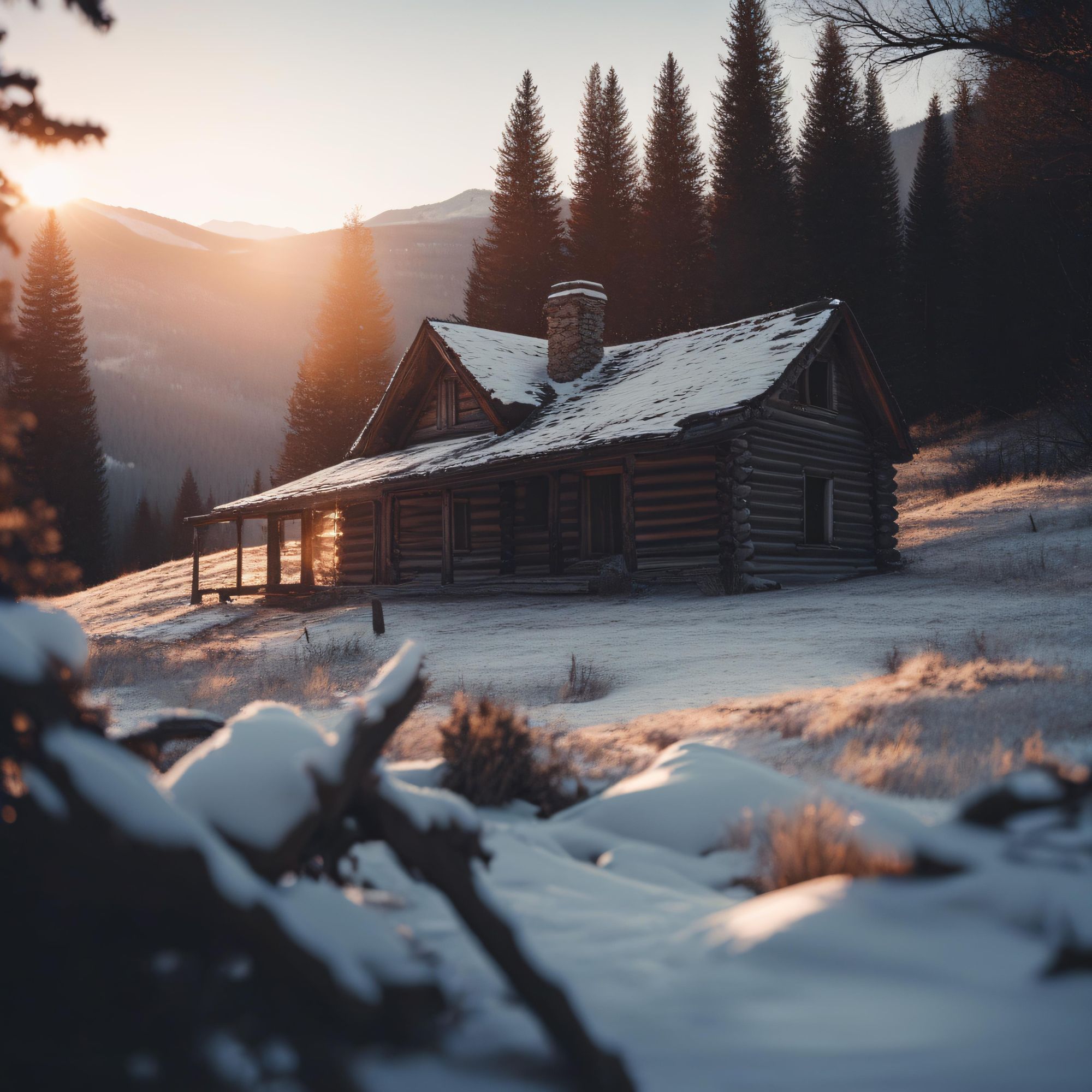 SDXL vs SDv1.5, what are the Differences?
Featuring a base model with 3.6 billion parameters and an ensemble pipeline with 6.6 billion parameters (which generates the final output by operating two models and merging their results), SDXL 0.9 stands among the most parameter-rich open-source image models. The initial stage's output undergoes refinement through the pipeline's second stage model.
The original v1.5 model consists of 1 billion parameters.
Use Stable Diffusion XL in the cloud on RunDiffusion.com
At the moment, the SD.Next (Also called VLAD) web user interface is compatible with SDXL 0.9. This UI is a fork of the Automatic1111 repository, offering a user experience reminiscent of automatic1111.
While SDXL does not yet have support on Automatic1111, this is anticipated to shift soon. Encouragingly, SDXL v0.9 is now compatible with RunDiffusion.
Get a machine running and choose the Vlad UI (Early Access) option.
You can launch this on any of the servers, Small, Medium, or Large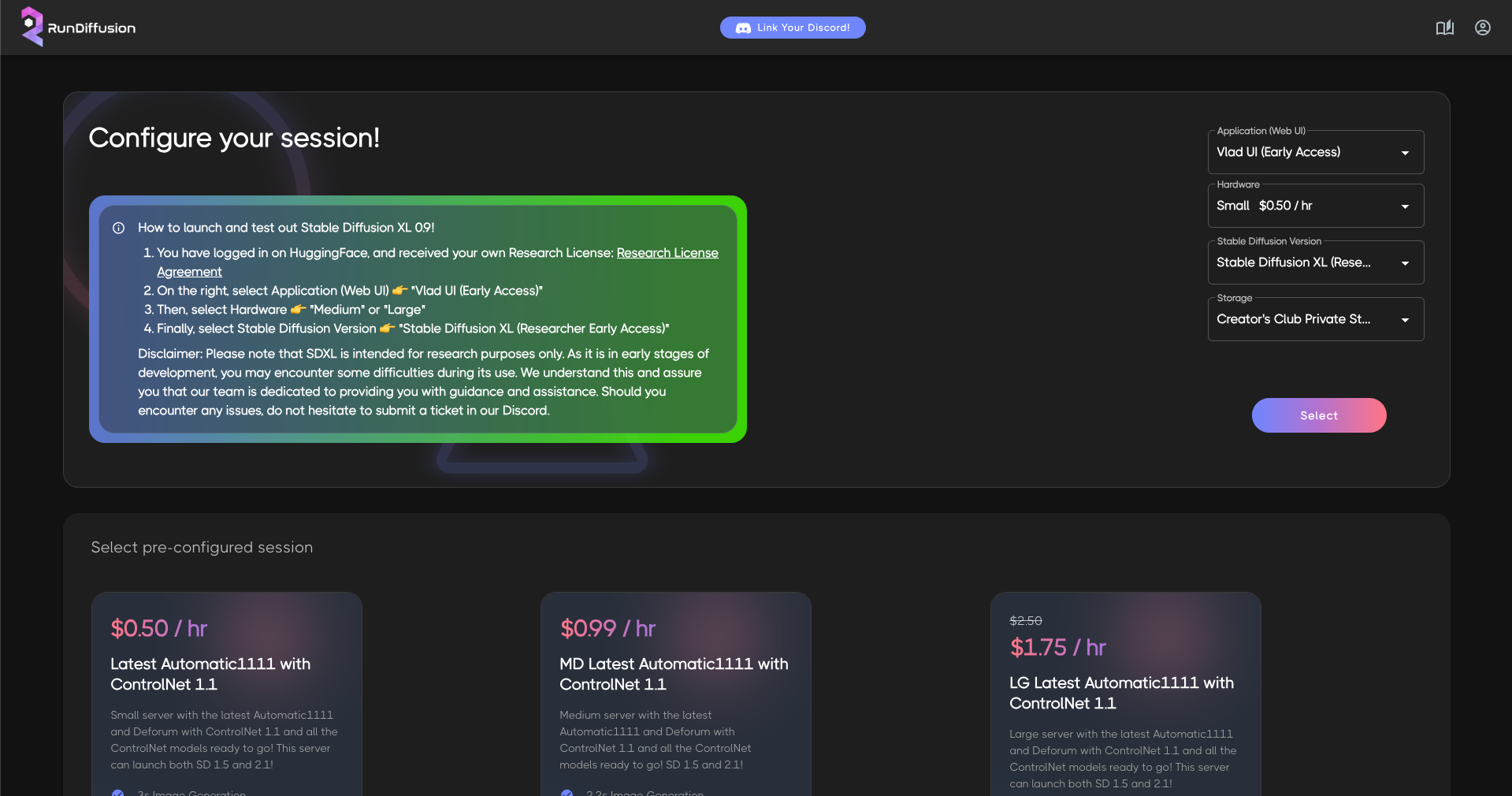 Small Server Workflow
The small server is capable of running SDXL. Typical image generation time is around 17 seconds which comes to ≈ 200 images/hour and $0.00237 per image. That's insane!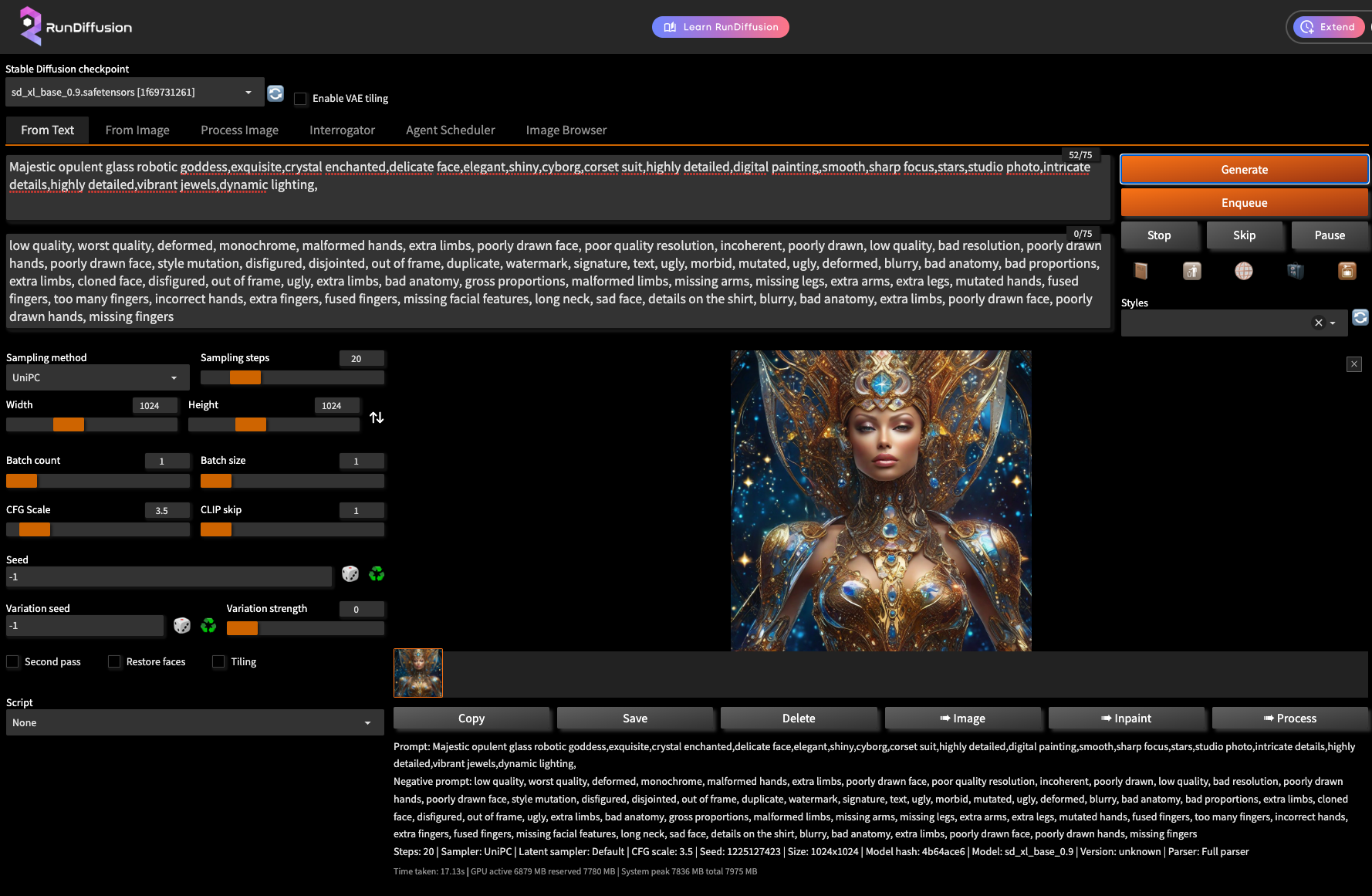 1920x1080 on a Small Server!?
Because the engineers here at RunDiffusion are amazing, we somehow managed to push our hardware to the limits! Generate HD images in 43 seconds.
That's ≈ 83.72 images/hour and $0.00602 per image.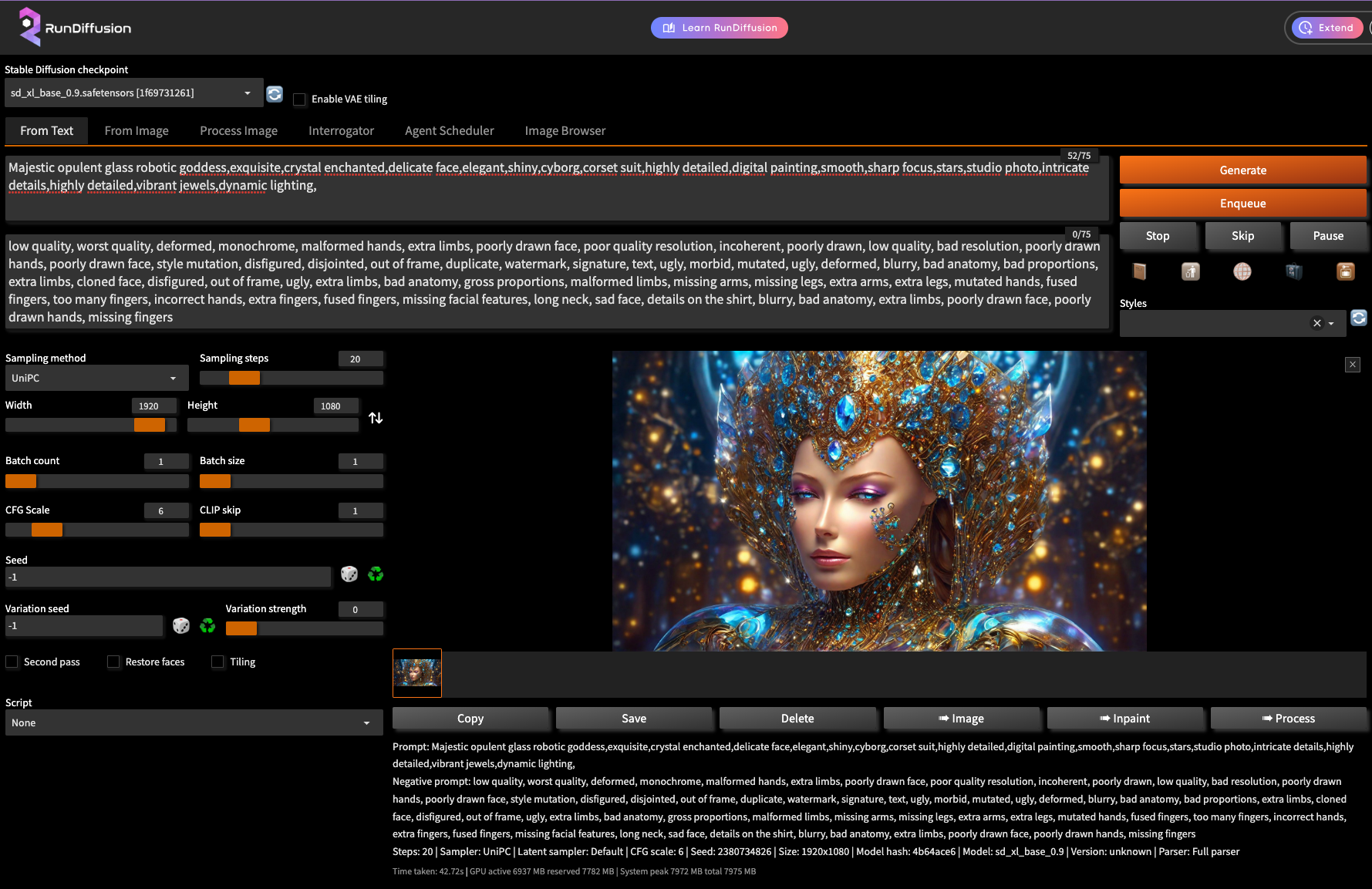 ---
Medium Server Workflow
Here is where SDXL really shines! With the increased speed and VRAM, you can get some incredible generations with SDXL and Vlad (SD.Next).
Images typically take 13 to 14 seconds at 20 steps. This comes to ≈ 270 images/hour and $0.00365 per image. Take a look!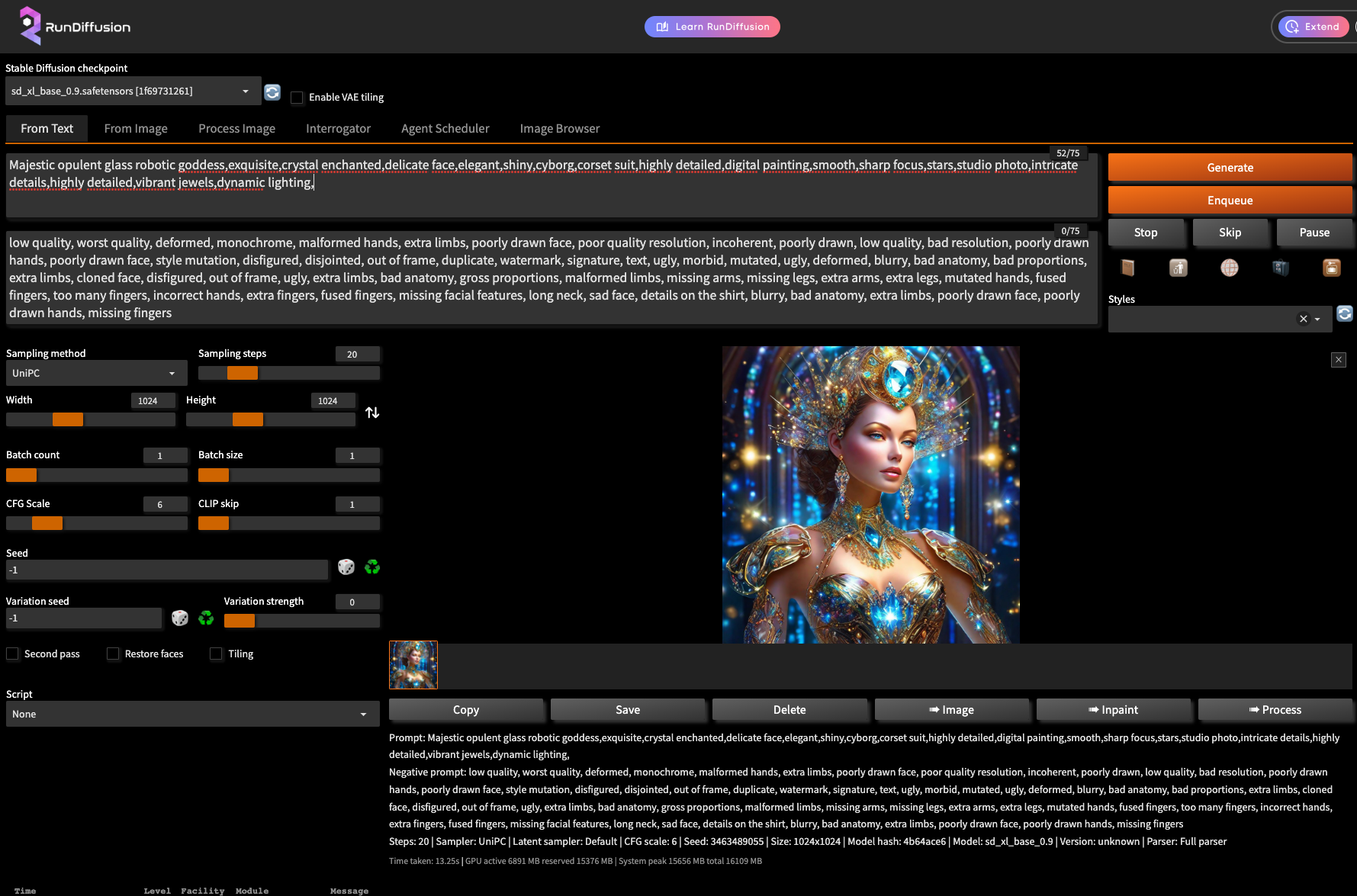 1920x1080 on a Medium Server
Generate 109 images/hour at a cost of $0.009 per image. Keep in mind that you can probably batch with this card so you might be able to get more image per hour.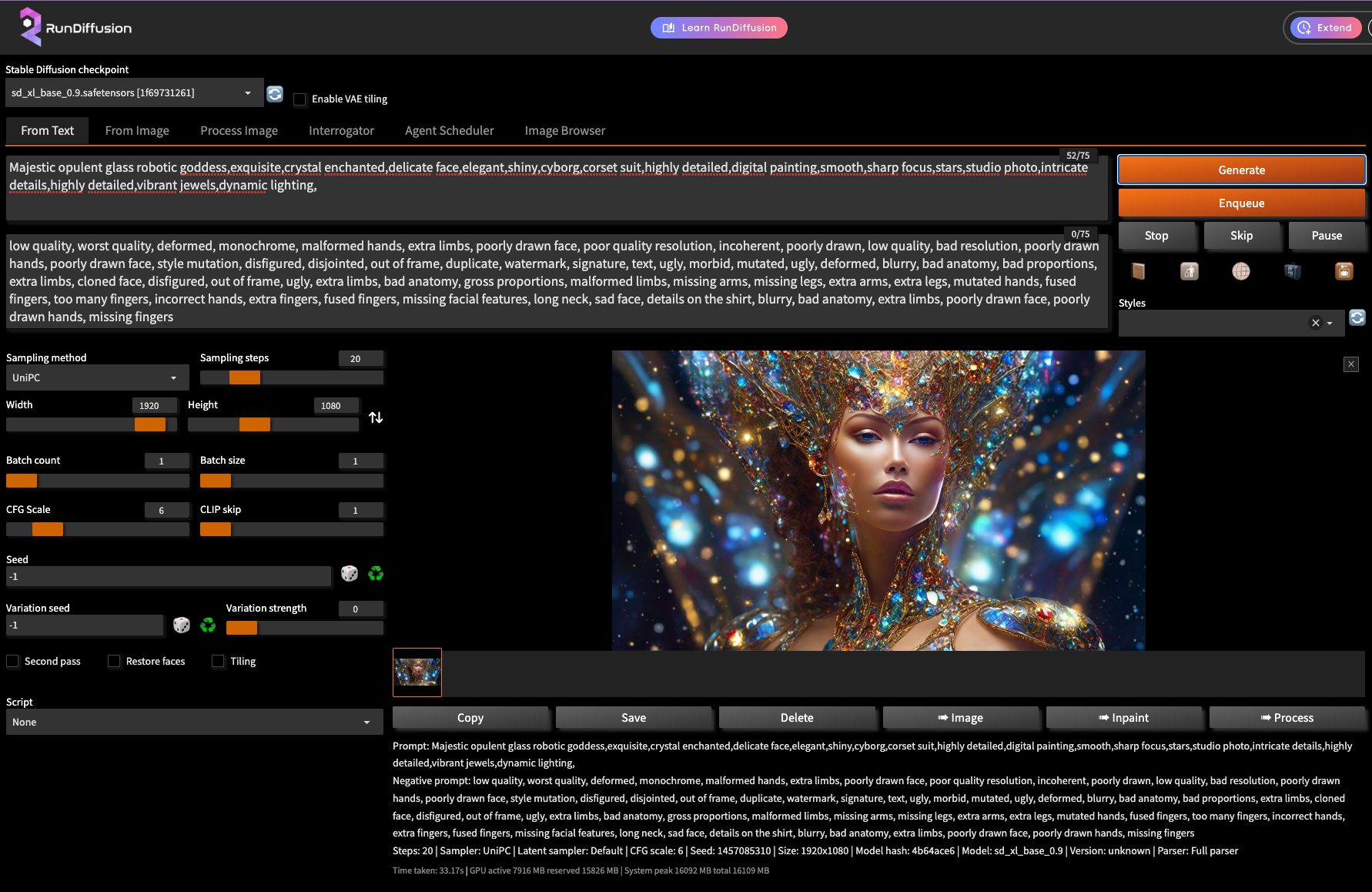 ---
Large Server is built for SDXL!
This server can produce a lot of images per hour! Since Creators Club members get a better deal on LG servers here is the cost breakdowns.
| Image Size | Images/Hour | Cost/Image (Creators Club) | Cost/Image (Shared Server) |
| --- | --- | --- | --- |
| 1024x1024 | 400 | $0.004375 | $0.00625 |
| 1920x1080 | 171.43 | $0.01021 | $0.01458 |
| 2048x2048 | 52.94 | $0.03305 | $0.04722 |
---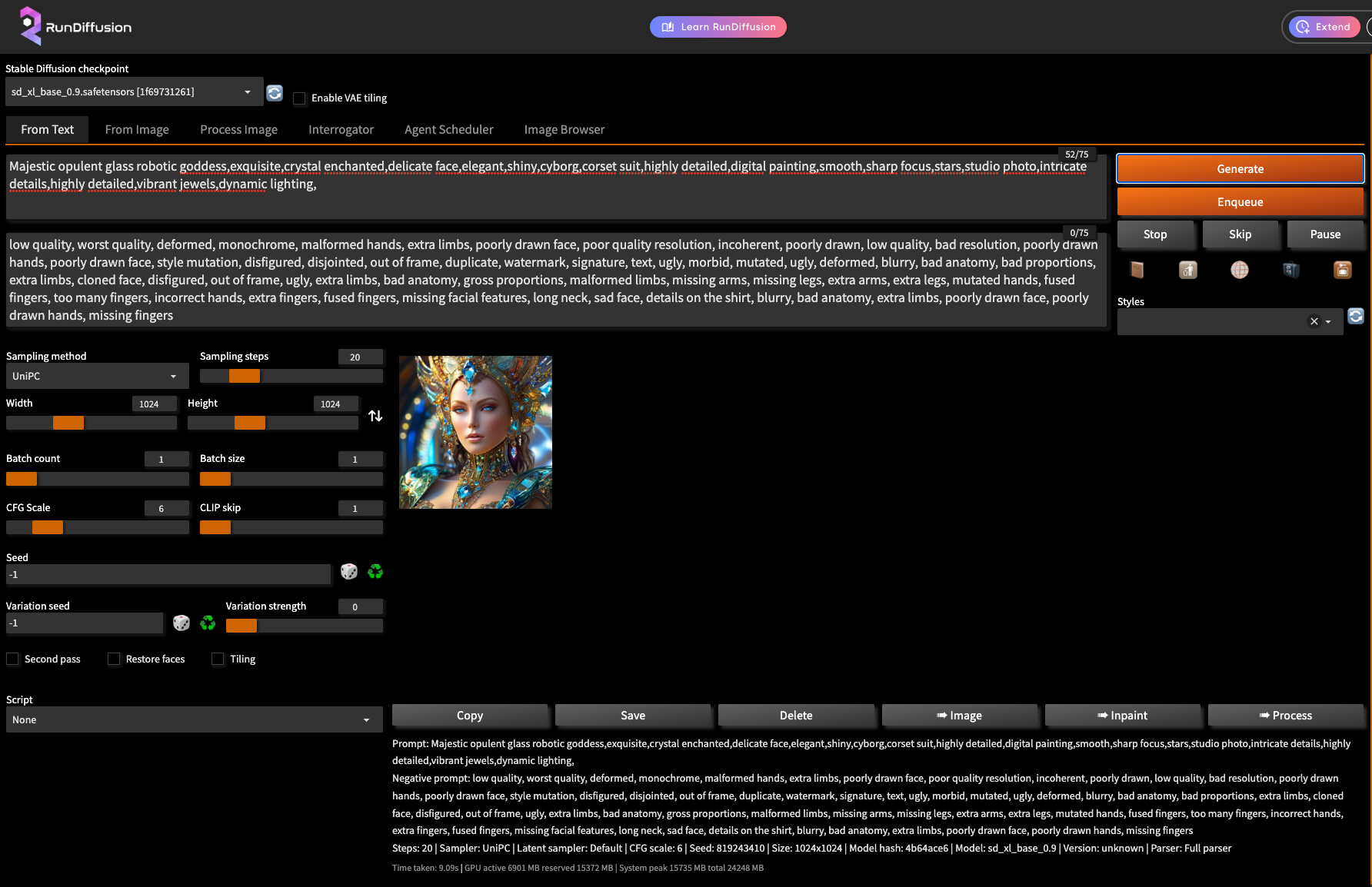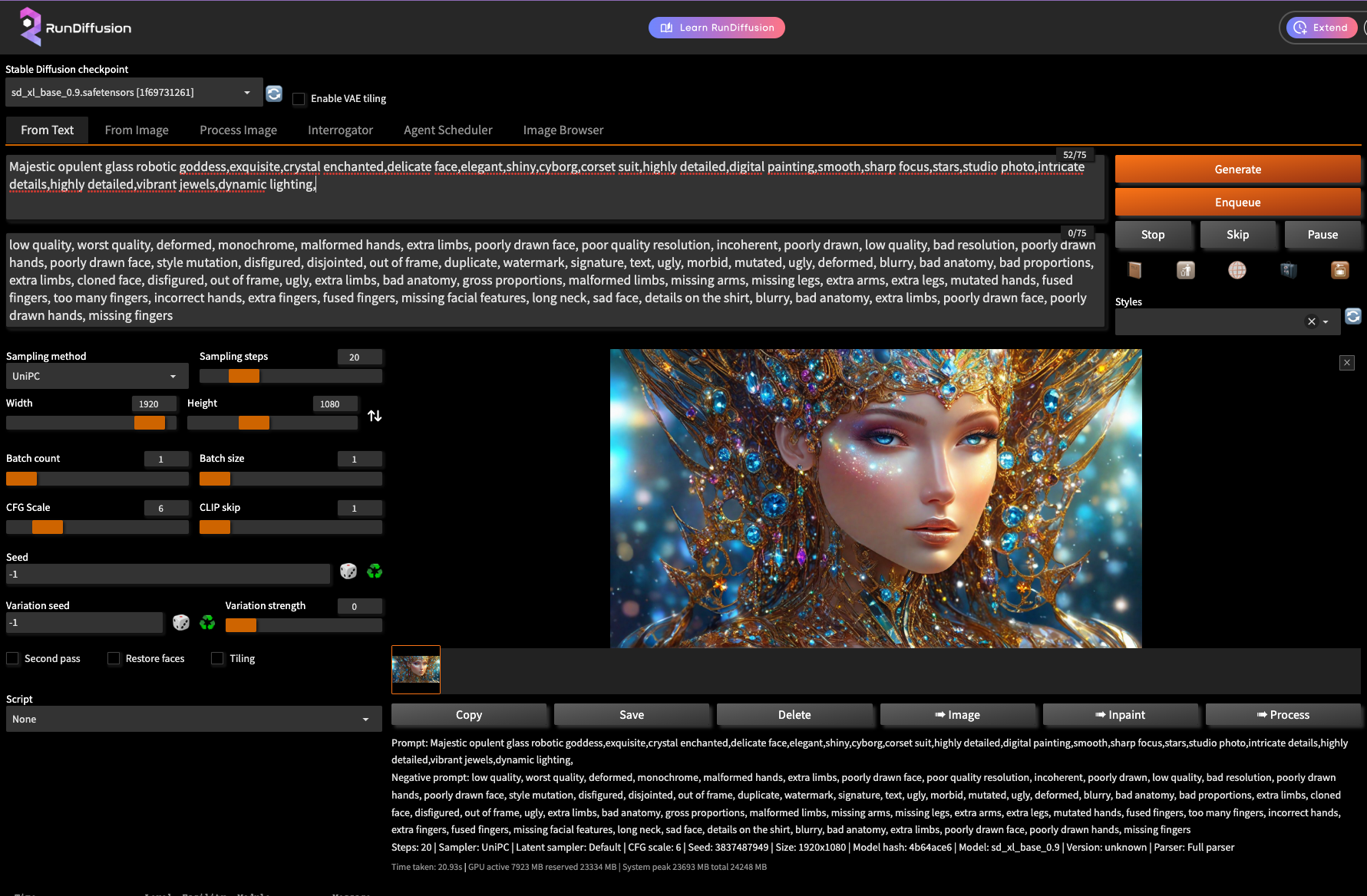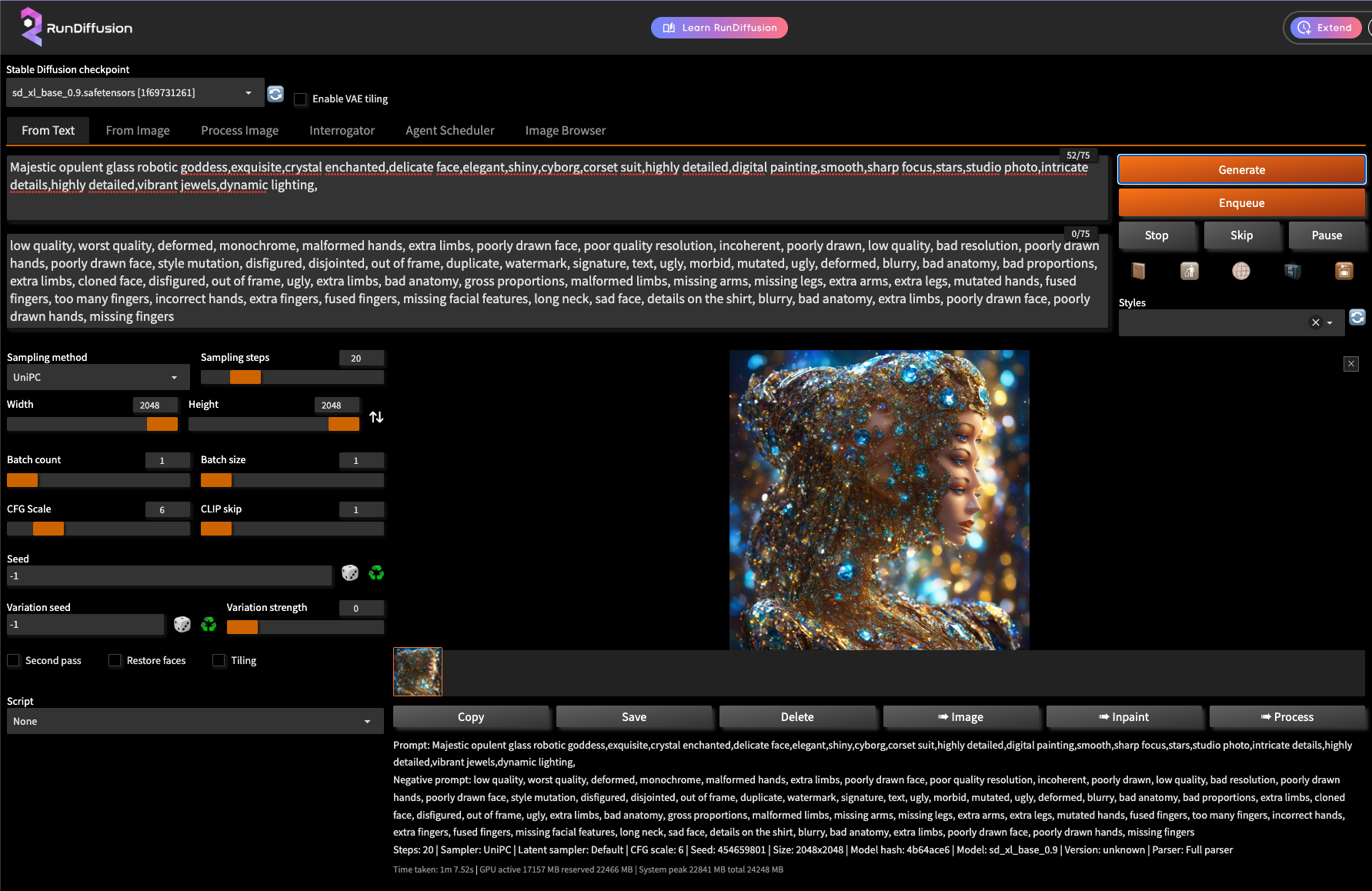 The 2048x2048 doesn't look very good due to the doubling effect you get when you go past the native training size (1024x1024). But it was a fun test anyway.
---
Troublshooting
There is a known memory leak in Vlad that can kill your server. If this happens, you will need to restart.
Out of memory issues. If you get an out of memory error on server, reduce your image size, try the "Clear Cache" button at the top, also try enabling "VAE Tiling" and try another image. We're trying to figure this out.
If you're having issues with installing SDXL locally or you've got slow hardware, you can try any of these workflows on a managed cloud stable diffusion server with a more powerful GPU on RunDiffusion.com!